Electrogas Welder / Tank Welder EGW -V | Electrogas Welding Machines. 
EGW -V: Electrogas Welder upward installation electrogas (arc) welding machine, for traditional storage tank welding; which is also know as a (AVW) automatic vert welder.
EGW -V/D: (Electrogas Welder) inverse installation electrogas (arc) welding machine, for jacking construction of storage tank; which is also know as a (AVW) automatic vert welder.
EGW -P: (Electrogas Welder) lightweight unmanned electrogas (arc) welding machine, mainly for power generation and wind tower welding; which is also know as a (AVW) automatic vert welder.
EGW -Ship yard
EGW (electrogas (arc) welding machines) which is also know as a (AVW) automatic vert welder are high efficient automatic welding equipment which achieves closed-loop control of carriage lifting via current feedback; Welding joint one-step forming thickness is 50mm, mainly used for thick plate single pass vertical seam welding in petroleum, chemical, blast furnace and ship building industries.
The EGW Single Pass Vertical Welder is a high productivity automatic vertical welding machine which uses real time closed-loop monitoring of the welding arc to accurately locate, control and adjust the welding head in the weld joint via arc current feedback and automatic carriage travel. This is used to complete single pass welds in material from 9 to 36mm thick but can also be used to complete thicker plate welds of up to 70mm when welding on both sides of the joint. This machine is used for vertical plate welding in the storage tank and many other applications.
A standard EGW-V electro gas welder can with a single or double sided frame (recommended) to house all the necessary components along with the operators for high deposition code quality vertical welding operation in any part of the storage tank.
Vertical Welders Features
Adopts EGW (Electro Gas Welding) process for high speed carbon steel vertical welding with FCAW (Flux Cored Arc Welding) Process option for alloy steel vertical welding
Lightweight travel carriage, self-propelled, weatherproof, fully contained operators cabin which allows safe access to the weld joint and easy set up and install
Lightweight Aluminum track, quick mount electro magnets , easy assembly and disassembly;
Real time monitoring of arc and automatic control of weld pool level, welding gun position and automatic adjustment of electrical stick out;
Sequence control in "Auto mode" to allow one button startup.
Onboard- self-contained continuous water cooling system
Fully integrated with LINCOLN electric welding systems as standard (other welding systems on client's request)
SEW drive system for reliable and steady travel
Different standard configurations for site erected Bottom Up and Top Down erected storage tanks or heavy wall cylindrical structures (eg. towers, blast furnace).
Specifications:
Welding seam forced water cooling, one-step forming
Automatic control of molten pool liquid level, automatic 
adjustment of welding wire extension length
Aluminum track, magnet adsorption, easy assembly and 
disassembly
Small carriage volume, light weight, module structure
Technical parameters:
Electrogas(arc) welding: Solid wire with gas shielding or inner shield wire
Applicable tank diameter: ≥4.5m
Applicable plate width: 1.6-3.2m (upward installation) 1.8-2.6m (inverse installation, Tank Jack up)
Applicable plate thickness: 8-50mm
Automatic welding speed: 0-250mm/min
Vehicle rapid traveling speed: 
550mm/min
Please go to the below link to get an idea of how our EGW system operates welding on 1" plate, that is 108" long onsite in Australia.
Vertical welder model we offer EGW-V, EGW-P, EGW-Jack-UP, EGW=Electro Gas Welder which is also know as a Vertical Up Welder (VUP), is a single pass Vertical-Up welder (VUP), AVW-multi pass, AVW-Jack-UP, AVW automatic vertical welder.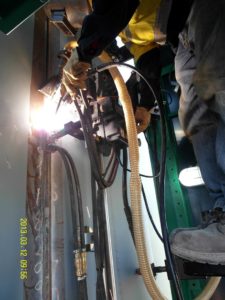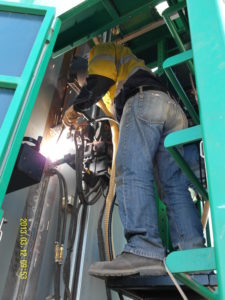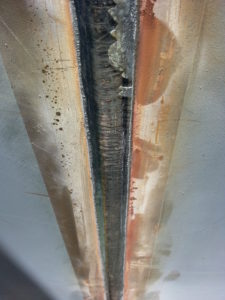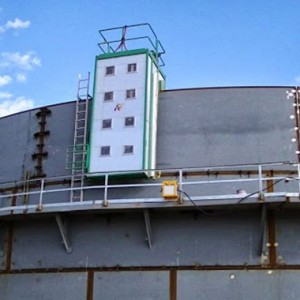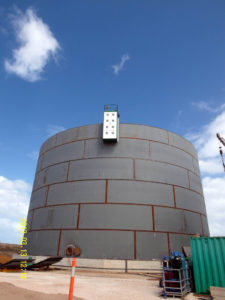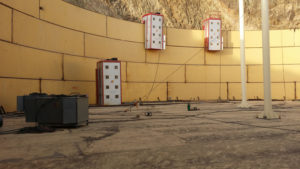 ---
Tank Welding LLC.
Is your complete source for Automatic Storage Tank Welding Machines. We specialize in custom built to order automatic tank welding machines for LNG & flat bottom tanks. We have over multiple Automatic Girth Welder designs (AGW) 3 O'clock Welder designs. EGW (Electrogas Welder), VUP & AVW Automatic Vert Welders, Vert Buggy, Tank Jacking systems, automatic Sphere welders. This line of equipment is built with your choice of USA made Lincoln or Miller welding systems. Our AGW travel is powered by top of the line twin German engineered inverter controlled drive motors.
 Explore all of our merchandise and contact us by phone or email. https://tankwelding.com/about-us/