AGW-P are a series of unmanned self-propelled Automatic Girth Welders designed to travel on a rail which is temporarily fixed to the shell plate.
AGW1-P adopts simple rack, light structure, convenient for transportation

Rack traveling track could weld to suitable height on tank wall according to welding seam position, wider applicable plate width range

Traveling mechanism is equipped with clutch, and the rack can be manually moved under clutch state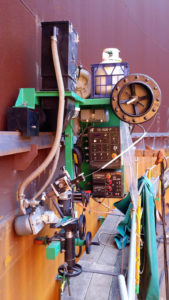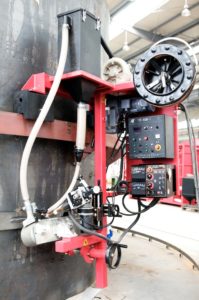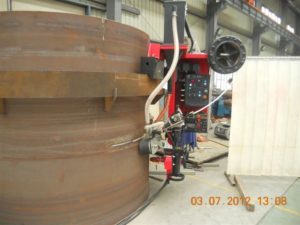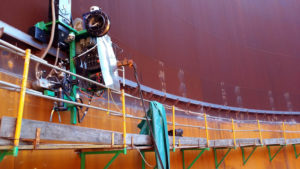 ---
AGW1-P2
The AGW1-P2 Automatic Curved Plate Welder for horizontal welding is an AGW which is also know as a (3 O'clock welder) has been developed to run on a rail for welding out of standard position girth seams on pressure vessels such as Spheres & Digesters.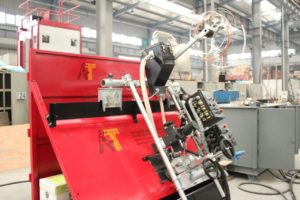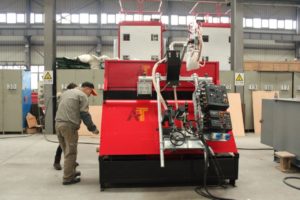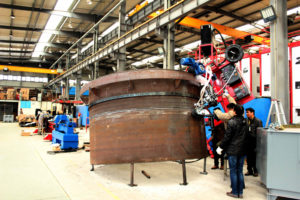 ---
AGW Stiffener welder is a new custom built automatic girth welder that has been built to run on top of the tank shell plate as other AGW's however is has been designed with a wide range of vertical adjustment (top to bottom) not normally found in a AGW allowing this AGW to weld stiffeners onto the tank shell plate located in most elevations.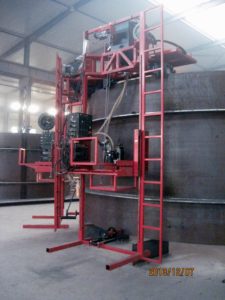 ---
The girth welder is an automatic welding machine that straddles the tank plate and is used to complete a tanks circumferential weld joints. It's typically used in a single or double sided configuration. In the single sided configuration one operator is required and welding on one side of the joint occurs. In the double sided configuration two operators are required and welding occurs simultaneously on both sides of the weld joint.
AGW Tank welders are a series of self-propelled Automatic Girth Welders (3 o'clock) welding equipment primarily developed for on-site erection of large storage tanks, silos, blast furnaces and similar cylindrical objects. It is available as a single-side version and a double-side version. Usually it is designed to travel on the top edge of the tank shell. As there are different ways of building tanks, one machine in the series is designed to travel on a rail which is temporarily fixed to the shell or on a stand-alone ring outside the shell. 
The operator of each machine (of the full size version) rides in a cabin, where he supervises and controls the welding process with the control panel within easy reach. The cabin, whose floor level under the carriage is variable to suit the height of the plate, is built as a cage to give the operator(s) maximum safety and comfort. For weather protection the cage can be covered by curtains. The cabin of a double-side machine is equipped with ladders our an internal frame climbing system and a joining bridge at the top to facilitate for the operators to climb from one side to the other. The top and bridge has guard rails for the safety of the operators.
An AGW is the machine used to automatic weld the circumferential weld inside and outside of vertical storage tank. By using AGW machines to replace manual welding the on-site storage tank welding time and welding defects can be significantly reduced.
AGW basic components include the frame, machine head mechanism, control unit, flux towing, flux recovery system, welding power and the storage case.
Automatic girth welder characteristics:
Standard configuration of the automatic girth welder it the reliable LINCOLN welding system

Dual AC variable frequency motor drive ensures that the Automatic Girth Welder could walk along the storage tank stably within a certain speed range

The Automatic Girth Welder head is equipped with welding seam automatic tracking system to keep the welding gun position accurately in the weld seam during the welding process.

Powerful vacuum pump mounted in the middle part of the Automatic Girth Welder frame to provide an effective flux recovery and recycling system.

Additional flux holding mechanism has been added just above the welding head and flux belt to provide a more consent flow of flux to the welding process.

The welding machine could be operated conveniently and clearly via the integrated control panel

Available in single sided and double sided models for performing double and single side welding of liquefied petroleum gas, liquefied natural gas tanks
Automatic Girth Welder Features
Fully integrated with LINCOLN electric submerged arc welding systems as standard (other welding systems on client's request).

Twin SEW motors drive system for reliable and steady weld travel .

Inverter control for accurate speed adjustment.

Fully adjustable weld head/ flux belt assembly.

Precision machined slides ensure correct weld placement.

Laser pointer to ensure correct tracking of the weld head in the circumferential seam.

Powerful, reliable and efficient blower type vacuum flux recovery system.

Flux heater option to keep flux away from moisture.

Sequence control in "Auto mode" to allow one button startup.
Applications:
Traditional oil & water tank welding

Tank Jack up type erection with below AGW track travel system

Submerged arc welding (single-wire or twin-wire welding)
Technical parameters:
Applicable tank diameter: 4.5m and above

Applicable plate thickness: 8-45mm

Applicable plate width: 1.8-3.2m (for bottom up tank shell plate erection) and 1.8-2.6m (Tank Jack up erection)

Applicable steel grade: Carbon steel, low alloy steel, high strength steel

Rack speed range: 100-2650mm/min
Optional AGW equipment:
MPS (mobile power source, diesel welding machine) available for single or double sided welding

Electric winch with arm mounted on top of AGW frame for lifting flux and wire from ground level to the working levels of the AGW

Flux hopper heating element

Automatic girth weld seam buffing attachment

Intercom for the double sided AGW2
---
Tank Welding LLC.
Is your complete source for Automatic Storage Tank Welding Machines. We specialize in custom built to order automatic tank welding machines for LNG & flat bottom tanks. We have multiple standard site proven Automatic Girth Welder designs (AGW) / 3 O'clock Welder designs. Single pass gas shielded EGW (Electrogas Welder), single pass self shielded VUP / vertical UP Welders & AVW / multiple pass Automatic Vert Welders, Automatic Vert Buggy, Shell Buggy, Tank Jacking Equipment and complete Tank Jacking systems, automatic curved plate welders for pressure vessel / sphere / digester welding. This line of equipment is built with your choice of USA made Lincoln or Miller welding systems. The AGW travel is powered by top of the line twin German engineered inverter controlled drive motors.
 Explore all of our merchandise and contact us by phone or email. https://tankwelding.com/about-us/