Vert Buggy also know as a Shell Buggy that Folds flat for shipping, available in single or double sided. 
For all manual tank construction operations where access is required to a work station at heights such as Plate erection, Joint set up and preparation, Manual welding, Installation and removal of tank fittings and jewelry etc.
Built to last and for safety with fully enclosed Galvanized & meshed steel frame structures, prevent loss of tools etc. and associated hazards while working at heights.
Chain pulley allows a single operator to easily maneuver the unit into places manually along the tank circumference
Swivel drive wheels for easy rolling on various tank diameters
Unique design folds flat or comes in bolt on sections for effective shipping and storage.
Customized to users' needs
Can be used in Single or double sided configuration
Motorized option is available
For all manual operations:
Manual welding
Light weight structure, easy hoisting
Manual chain driven
Single or double side optional
Surrounded by high security protective screening
Folding levels for a safer working surface
Top is enclosed by hand rails for a safer cross over
Side doors that open for easy access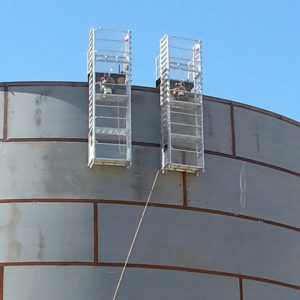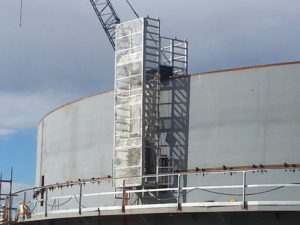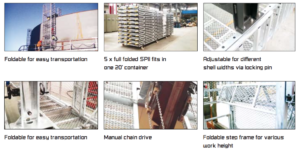 Tank Welding LLC.
Is your complete source for Automatic Storage Tank Welding Machines. We specialize in custom built to order automatic tank welding machines for LNG & flat bottom tanks. We have over multiple Automatic Girth Welder designs (AGW) 3 O'clock Welder designs. EGW (Electrogas Welder), VUP & AVW Automatic Vert Welders, Vert Buggy, Tank Jacking systems, automatic Sphere welders. This line of equipment is built with your choice of USA made Lincoln or Miller welding systems. Our AGW travel is powered by top of the line twin German engineered inverter controlled drive motors.
 Explore all of our merchandise and contact us by phone or email. https://tankwelding.com/about-us/