Mini AGW / AGW1-P is an Automatic Girth Welder | Rail mounted AGW | 3 O'Clock Welder | Tank Welder designed to travel on a rail which is temporarily fixed to the shell plate.
The Mini AGW has been developed to weld the upper outside and lower inside horizontal weld seams of Spheres, digesters and other field erected pressure vessels. Because of the temporary rail mounting system an AGW Mini is also the correct choice for tank shell replacement (repair work) project where a standard over the top of the shell plate AGW will not work.
Our Mini AGW in available in multiple configurations depending on your requirements and it can be built to weld with SAW (sub-arc) or gas shielded wire processes.
Mini AGW / AGW1-P adopts simple rack, light structure, convenient for transportation
Rack can be weld to suitable height on tank wall according to welding seam position, wider applicable plate width range
Traveling mechanism is equipped with clutch, and the rack can be manually moved under clutch state
Mini AGW Applications:
Tank shell plate replacement welding
Power generation welding
Wind tower welding
Sphere welding
Digester welding
Field erected pressure vessel welding
Technical parameters:
Applicable tank diameter: 3m and above
Applicable plate thickness: 8-45mm
Applicable plate width: >780mm
Applicable steel grade: Carbon steel, low alloy steel, high strength steel
Rack speed range: 100-2650mm/mim
The line of tank equipment we supply includes items such as over 10 models of the Automatic Girth Welder (AGW), AGW-LNG, AGW-USA, AGW-LW Light Weight Automatic Girth Welder AGW-1, AGW-11, AGW1-P, AGW1-P2, AGW-stiffener welder, AGW Mini, AGW Sphere welder, AGW-Mig, which are also know as a (3:00, 3 O'clock welder) Including an AGW built for tank Jacking (tank jack-Up) projects.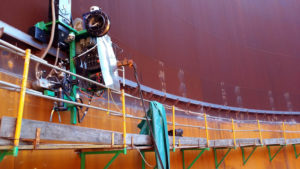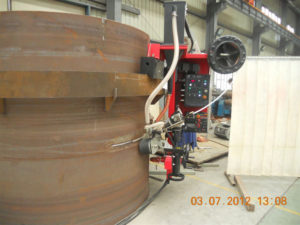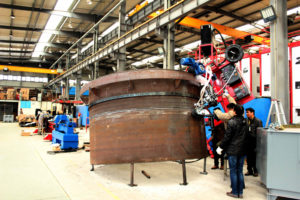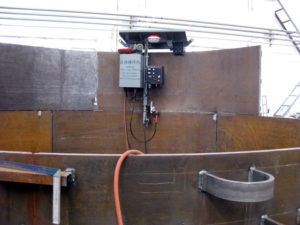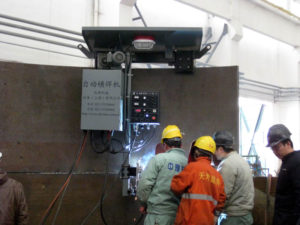 AGW selection guide
Tank Welding LLC.
Is your complete source for Automatic Storage Tank Welding Machines.
We specialize in custom built to order automatic tank welding machines for LNG & flat bottom tanks. We have over 10 standard Automatic Girth Welders (AGW) A.K.A. (3:00, 3 O'clock Welder) designs. EGW (Electrogas Welder), VUP & AVW Automatic Vert Welders, Vert Buggy, Tank Jacking systems, automatic Sphere, Pipe, Shop, & Shipyard welders. This line of equipment is built with your choice of USA made Lincoln or Miller welding systems. Our AGW travel is powered by top of the line twin German engineered inverter controlled drive motors.
Explore all of our merchandise and contact us by phone or email. https://tankwelding.com/about-us/